2012 has been an exciting year, full of change and merriment. Here's my retrospective.
Excella Consulting
The majority of 2012 I spent working at Excella Consulting, a great local IT and Agile consulting firm. While there, I worked on advancing their Java Center of Excellence. I enjoyed my stay there and learned a lot from everybody. I worked with some great clients and had a blast. Excella is a bunch of smart individuals and I highly recommend hiring them or working for them. They are a great place to work.
Public Speaking
One of the highlights of 2012 has to be the number of public speaking engagements I had throughout the year. Most of my talks centered on my favorite topic, Continuous Delivery. I was able to speak at not only user groups, but a couple of conferences as well. Here's a quick run-down of the public speaking engagements I had in 2012:
It is hard to pick my favorite speaking engagement. It was an honor to speak at Agile DC and a lot of fun being a part of the first DC Agile Engineering Conference. It was also awesome to go to Richmond to speak. I love the crowd at MCJUG as well.
The DC Continuous Integration, Delivery and Deployment Meetup
In 2012, I started the DC Continuous Integration, Delivery and Deployment Meetup. This has been an awesome experience and a lot of fun to get not only my friends to speak, but also some industry big wigs. The group meets once a month to discuss real-life war stories. While we have only had four meetings, it has been an awesome experience that I hope to build on in 2013. Please join the group and come out and have fun. I am hoping to have future meetings at BB HQ.
The highlights of this group was having Paul Duvall, the primary author of THE Continuous Integration book, came to speak about Continuous Delivery in the Cloud. Depsite the A/V outage in the middle of his talk, he did a great job and it was a great experience.
Our first meeting of 2013 is tomorrow night, where Sanjeev Sharma from IBM will talk about DevOps for Mobile applications.
Early and Often
While I do enjoy blogging, I was only able to compose 20 blog posts in 2012. That's a pretty low number all things considered. My blog did get some decent traffic, with a total of 25K views over the year. Unfortunately, my most popular posts were not from this year, but from previous years. I hope to double the number of posts in 2013.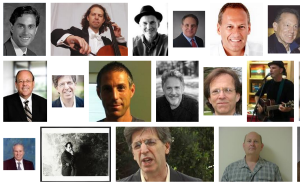 All pictures of Stephen Feldman from Google Image Search.
Meeting Steve
Sometime in the middle of summer, my friend Andy Glover sent me an email asking if I was interested in a DevOps gig at Blackboard. The email was from Steve Feldman who was looking for a team lead. At the time, I was already contemplating my next move and agreed to meet Steve for coffee. I was working at a client in DC and decided to walk to BB for coffee. It was a pretty long walk, but it was worth it. Steve shows up in a golf shirt, short and sandals. That was the first good sign. The second good sign was that Steve had brought with him a printout of a blog entry I had written from 2011. Steve and I hit it off and he explained what he was looking for. This sounded great. The third good sign was when Steve invited me to play golf. I love golf. It was a great course and a great day.
Over the course of the months, Steve and I continued to discuss the opportunity. Eventually I met with other members of Blackboard and an offer was made. I promptly turned in my resignation at Excella Consulting and joined Blackboard as the Director of Learn DevOps.
Getting started at Blackboard
November saw my first day at Blackboard. I was excited to have an office and a great team to work with. I knew that I would be spending the first month or so learning as much as I could about the DevOps team and how Blackboard develops Learn. I spent most of November in one on onemeetings. Besides HR tasks, little else was accomplished.
In December, I started working on my assessment of the Learn Product Development organization. It was exciting working with members of the various departments and learning all I could about how the "cheese was made". The process took longer than I expected but I put together a presentation for management and it went well. Now, I have just have to execute on my plan. The fun begins!
Share this:
---